Global Executives' perspective: Key Benefits of the Industrial Internet of Things Technologies
The Industrial Internet of Things (IIoT) is already changing how companies operate.
In 2015, Control Engineering published an article about the benefits of IIoT, mentioning that Industrial IoT technologies used in monitoring valves in a refinery saved more than $3 million annually due to timely detection and repair of faulty valves. The project paid for itself in five months, with an estimated annualized return on investment (ROI) of 271% annualized over 20 years. That is an excellent example of how IIoT can improve performance and increase ROI.
In an IIoT study based on a global survey of 350 global executives and interviews with innovation leaders at large global enterprises, BPI Network found interesting insights about many aspects of IIoT.
More cost-efficient operations (47%), product and service differentiation (36%), and improved customer engagement and satisfaction (34%) are seen as the top benefits of IIoT.
These results are particularly interesting for IIoT companies that provide solutions for this space, as they understand better what the real needs and concerns of their potential customers are.
According to the report: "operational improvements are expected to deliver the main source of increased value and business performance from IIoT. New capabilities around predictive maintenance, operational intelligence, and self-diagnostics and automation all point to a world with less equipment downtime, higher performance levels, and smarter, more efficient operations. Improvements in understanding customers and customer experience also remain top of mind for these executives. When it comes to current investment levels, customer experience advantages are receiving the greatest attention, in part because they are less complex and costly to deliver in the short-term."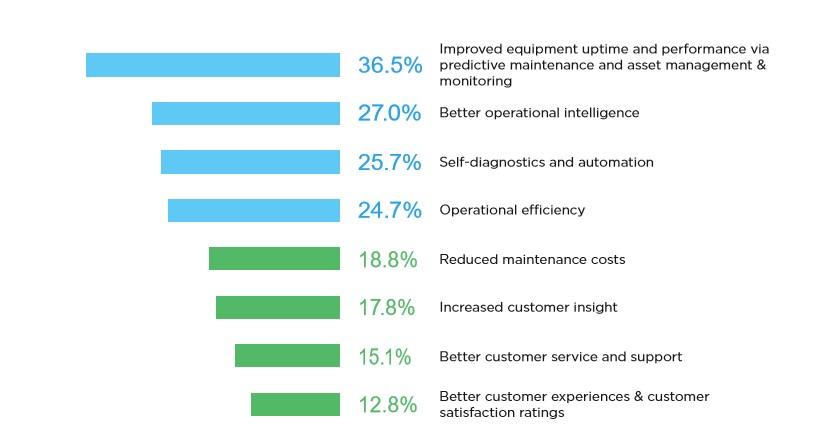 Additional findings of the report we published in this article. To see all the statistics and insights, download the report.
BPI Network brings together executives from across the enterprise to focus on a common purpose—driving business performance through innovation.